The general theory of acupuncture is that proper physiological function and health depend on the circulation of nutrients, substances, and energy called "Qi" through a network of "channels" or "meridians". This network connects every organ and part of the body, providing balance, regulation, and coordination of physiological processes. Pain and ill health result when the flow of qi through the body is disrupted or blocked. This can be caused by several things, such as disease, pathogens, trauma/injury, and medication (side effects), as well as lifestyle factors such as overwork, poor diet, emotions, lack of rest, and stress.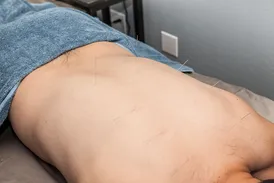 Stimulation of the appropriate acu-points through treatments helps to restore the even flow of Qi and other nutrients. Sophisticated and complex systems of diagnosis are used to treat the person as a whole, rather than treating isolated symptoms.
Common Conditions:
I have treated hundreds of patients with the following conditions:

Fatigue, insomnia, depression, anxiety, stress, sciatica, migraines, fibromyalgia, carpal tunnel, menstrual pain, arthritis, TMJ, tendonitis, menopause, yeast infections, cysts & fibroids, irregular menses, UTIs, thyroid and other endocrine issues, psoriasis, eczema, viruses (Lyme, Bell's Palsy), vertigo, infertility, pregnancy, neurological conditions, chronic eye disease, digestion, autoimmune disorders, general colds and flu, allergies. If you don't see your condition listed here, I guarantee I have treated it!
In addition, we also offer wellness care, weight loss and detoxification.
Services Offered:

Acupuncture
Chinese Herbal Medicine
Cupping
Gua Sha
Moxibustion
Functional Medicine
Nutrition
Tibetan Medicinal Foot Soaks
Detox/Cleanses
Day-of-Embryo Transfer On-Site Acupuncture
Corporate CommunityAcupuncture (on-site)
Aroma AcuPoint Therapy (AAT)
Functional Fertility & Male Fertility Factor